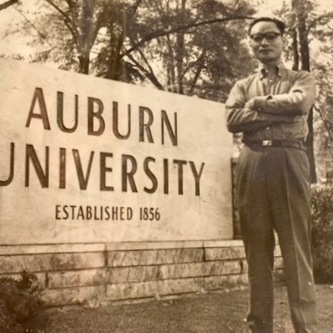 Chin F. Lin Endowed Scholarship
A conversation with Jeannie Lin Chopra
Why did you choose to create a scholarship at Auburn University?
Auburn University is my father's alma mater. My husband and I established a scholarship in the College of Engineering in honor of my father for his 80th birthday.
What would you want recipients of this scholarship to know about you or the person(s) for whom it is named?
My father, Chin Fa Lin, was born in a small rural town in Taiwan in 1932, the fourth son in a family of five children. His parents were farmers. From an early age, all of the children worked on the family farm, helping their parents to make a living. It was a hard life and the only life that my father knew.

Attending school soon opened my father's eyes to a different world of possibilities where he discovered a love for learning. My father's brothers all became farmers, but my father chose a different path that eventually took him away from the farming life.
In the 1940s, the onset of World War II brought many changes to the residents of Taiwan. Several of my father's classmates, and also his older brothers, were only able to complete up to a middle school level education. They had to leave school to help support their families.
My father considers himself to be one of the luckier students during the war time. He studied very hard and excelled in his academic subjects. After completing elementary school, my father was one of two students selected from his school who were given the opportunity to attend a technical middle school (without having to take the required entrance exam). From there my father continued on to attend a technical high school, where he focused on his strong interests in math and sciences.
During high school, my father worked part-time for the Taiwan Power Company to help support his family. This company sponsored my father with a scholarship to attend National Cheng Kung University in Taiwan, where he pursued a degree in Mechanical Engineering. After receiving his undergraduate degree, my father returned back to Taiwan Power Company and worked for several years as an engineer. My father also met my mother, got married, and started a family.
However, my father still yearned for something more. He wanted to pursue further graduate studies and dreamed of opportunities that were available in the U.S. In 1966, at 34 years old, my father came to the U.S. and began his graduate engineering program at Auburn, completing his master's degree in 1968. Although my father was also accepted by other graduate engineering programs in the U.S., he chose to attend Auburn. He had heard about the growing reputation of Auburn's engineering program while he was living in Taiwan in the 1960s. After being accepted by the programs, my father made a trip to the U.S. and visited the schools to make his decision. He felt at home being on the Auburn campus. Auburn had also provided my father a scholarship which helped make his graduate education possible.
Tell us about your Auburn story, favorite tradition, a "War Eagle!" moment, or what Auburn has meant to you.
I like to think that Auburn University was where my father got his start in America, and was able to make a better life for himself and his family. The graduate engineering degree he earned from Auburn opened doors to better job opportunities, and enabled my father to pursue a long and successful career working in the energy industry. My father contributed to many interesting projects, from analyzing nuclear reactor power plants components in Tennessee to designing pressure vessel components for oil refineries in California and Texas. He retired after spending several decades working as an engineer.
What do you hope your recipients gain through receiving this scholarship?
I hope this scholarship will help students get a start on pursuing their education and interest in the field of Mechanical Engineering. I also hope students will have the opportunity to use their knowledge and understanding gained from their Auburn education to contribute to engineering projects that will have a positive impact in the world.