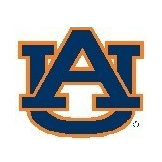 William Robert Killingsworth, Sr., and Frances Smith Killingsworth Endowed English Scholarship
A conversation with Kay Killingsworth Bains.
Why did you choose to create a scholarship at Auburn University?
My parents, both now deceased, grew up in Alabama during the Depression. Both were able to attend college in Birmingham for only one semester before having to start work to help support their respective families. From the time I was born, their message was "WHEN you graduate college," not "IF you graduate college." They worked very hard at blue collar jobs to save enough money for me to go to college without incurring any student debt. I chose to create a scholarship at Auburn in honor of my parents and in appreciation of the excellent education I received at Auburn.
What would you want the recipients of this scholarship to know about the person for whom it is named?
My parents expected and demanded excellence. They were kind and caring parents, but they also made it very clear that a half-hearted approach to anything was not acceptable. Striving for a "B" was not sufficient. I was expected to strive for excellence. After I graduated from Auburn, I went to law school, where I finished first in my class of 260. After practicing law in Birmingham for 35 years, I retired in 2015. I credit my professional success to my parents' expectations and their confidence in my abilities.
Tell us about your Auburn story, favorite tradition, a "War Eagle!" moment, or what Auburn has meant to you.
Attending classes my first semester of law school, I marveled at the pre-law and economics and business majors who spoke so willingly (and at length) in class. The subject matter and the method of teaching were so different from what I had experienced as an English major at Auburn. My shoulders would slump, and I would think to myself, "No one will ever quote Keats or Wordsworth in this class." In law school, there were no interim exams during a semester. At the end of the semester, a final was given that was comprehensive of everything taught during that semester. I took those first semester exams in absolute terror, knowing that my more verbose classmates would excel. As it turned out, however, those pre-law, economics, and business majors were accustomed to multiple choice or short answer exams. As an English major, I was versed in writing long, detailed and thorough analytical answers to exam questions. For me, composing an opening and closing paragraph, outlining quickly in my mind the arguments and explanations I would offer, and then writing in a concise and persuasive manner was routine. Although I left each exam literally shaking, having no confidence that English papers and exams were the perfect "pre-law" curriculum, my grades proved that my years of studying English literature prepared me well for "thinking and writing like a lawyer."
What do you hope your recipients gain through this scholarship?
I hope that the funds received from this scholarship will alleviate some of the stress of paying for college. I also hope that the scholarship will encourage students to study English literature, which provides a balanced and analytical education that is an excellent base for any number of professions and careers.